Yup. You read that right. Shatner.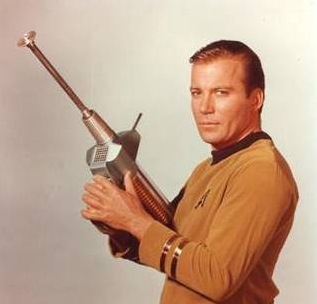 This was listed on a celebrity recipe series one time on
CDKitchen.com
and, being the super-geek that I am, I immediately saved it. I forgt about it for a long time (as usually happens) but last night I was inspired to bake muffins and already had all of the ingredients. It only took about 5 minutes from start to oven. This is why I love muffins and quickbreads! So easy just to make out of the blue.
So these do not taste at all like cappuccinos. I'm not sure why. There isn't nearly enough espresso powder in it. You can't taste it at all. You can kind of taste the cinnamon, but it's mostly just a really nice chocolate chip muffin. I would make it again probably, but not if I want something with a coffee flavor.
William Shatner's Cappuccino Chip Muffins
CDKitchen
2 cups flour
1/2 cup granulated sugar
2 1/2 teaspoons baking powder
2 teaspoons instant espresso powder
1/2 teaspoon cinnamon
1/2 teaspoon salt
1 egg
1 cup milk
1/2 cup butter, melted and cooled slightly
1 teaspoon vanilla extract
3/4 cup mini chocolate chips
1. Preheat oven to 400 degrees F. Grease a 12-cup muffin tin.
2. In a large bowl, combine flour, sugar, baking powder, espresso powder, cinnamon and salt. Whisk gently to mix.
3. In a medium bowl, beat egg lightly. Whisk in milk, melted butter and vanilla extract. Make a well in center of dry ingredients and pour in milk mixture. Stir just until evenly blended. Stir in chocolate chips.
4. Divide batter among 12 greased muffin cups. Bake 15 to 18 minutes, or until a cake tester inserted in center of muffin comes out clean.
Yield: 12 servings